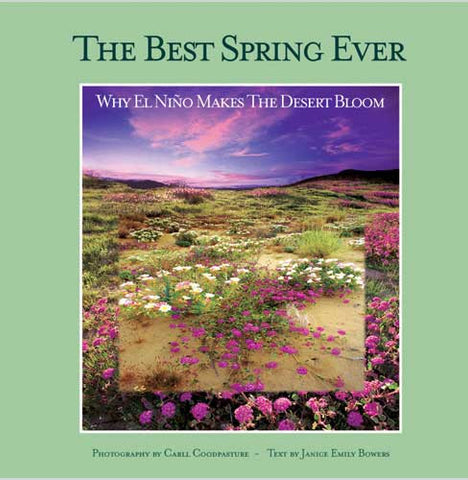 The Best Spring Ever: Why El Niño Makes the Desert Bloom
Photography by Carll Goodpasture
Text by Janice Emily Bowers
Edited by Steven L. Hartman
The words "El Niño" make us think of the weather - but El Niño is also a biological phenomenon. In the desert Southwest, where El Niño intensifies cool-season rain, wildflowers respond with spectacular displays, boosting the entire ecosystem. Pocket mice and harvester ants, coyotes and desert tortoises all benefit directly or indirectly from the massive input of flowers, greenery, and seeds that typifies the best El Niño years.
In this portfolio of over 100 color images, photographer Carll Goodpasture has captured the lushness of spring bloom after the El Niño of 1997-98, one of the strongest in recent memory. His breathtaking images show the desert as few people ever see it -  a once-in-a-lifetime experience. The text and captions by Janice Emily Bowers provide up-to-date information about El Niño and its influence on desert ecosystems, including the relation between rain and seed germination, the interactions between flowers and their pollinators, and human impacts on the desert.
The Best Spring Ever: Why El Niño Makes The Desert Bloom will give you the feeling that you are in the desert during a bountiful year -  even if you are sitting at home in the midst of a drought.
2004 CNPS Press. 96 pp, 10" x 10"
---
We Also Recommend