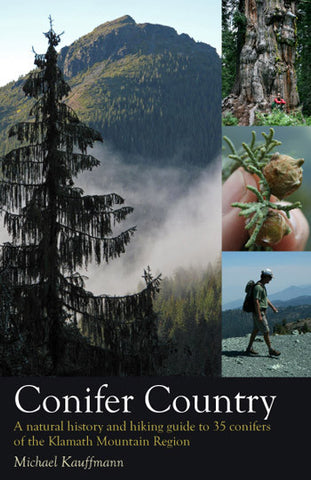 Conifer Country
A Natural History and Hiking Guide to 35 Conifers of the Klamath Mountain Region
By Michael Edward Kauffman
Backcountry Press. 2012.
Conifer Country: A Natural History and Hiking Guide to 35 Conifers of the Klamath Mountain Region is an innovative natural history and hiking guide that uses conifers as a lens to explore the astounding plant diversity in the Klamath Mountains.  Kauffman introduces readers to the magic of this little-known botanical wonderland through:
The most accurate range maps ever created for conifers in northwest California and southwest Oregon
Lively species descriptions with maps to explore the conifer diversity
Stunning photos from across the region
Who is Conifer Country written for?
Plant lovers, hikers, and backpackers - for novice and expert botanist alike.  It is for people who want to get into the field, explore wild places, and understand why the Klamath Mountain region nurtures unique plant diversity.
Softcover. 206 pages
To view sample pages
click here
.
---
We Also Recommend