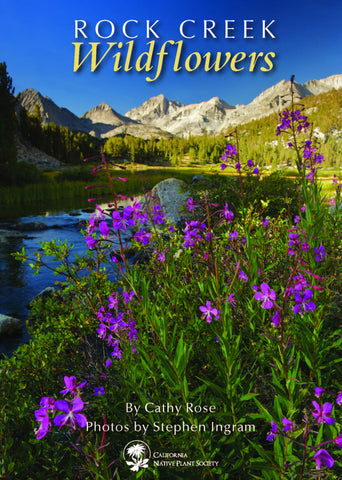 Rock Creek Wildflowers
Rock Creek Wildflowers
Cathy Rose (Author), with photos by Stephen Ingram
The peaks surrounding Little Lakes Valley form the headwaters of Rock Creek, an area known for its spectacular scenery, abundant flowers, and rewarding hiking trails. Rock Creek Wildflowers is a detailed plant guide to the high elevation wildflowers, shrubs, trees, ferns, and grasses found in Little Lakes Valley and throughout much of the Sierra Nevada. The book includes:
125 plant species profiles
Descriptions of plants, their appearances, lore, and history
Diagnostic photographs of each plant
Panoramic photograph identifying the peaks
Map with trails, lakes, peaks, and other features
Tuck it in your pack as you head out from Mosquito Flat to explore the botanical richness of Little Lakes Valley from Mono Pass to Morgan Pass.
Price: $16.95 
---
We Also Recommend