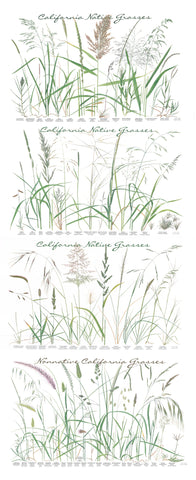 The Grass Poster
California's native grasses have never looked more beautiful or been more easily identifiable than in this new definitive poster. Artist Kristin Jakob drew each grass from live plants in the field.

This colorful poster, printed on extra-heavy paper, is actually a set of four 11.5-by-17.5-inch designs (placemat sized), with native grasses depicted on three of the set and the introduced grasses grouped on the other.

Informative text or drawings on the back of each sheet provide specific information about California's grass flora. One sheet displays the anatomy of a grass including roots, shoots and spikelets; another contains "grass facts", two other sheets describe the difference between cool- and warm-season grasses and the story of the invasion of California's native grasslands. This poster set is available as either laminated (suitable as placemats) or unlaminated.
---
We Also Recommend