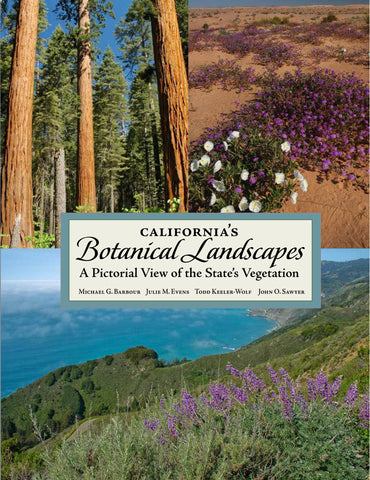 California's Botanical Landscapes
California's Botanical Landscapes: A Pictorial View of the State's Vegetation
Michael G. Barbour, Julie M. Evens, Todd Keeler-Wolf, John O. Sawyer
California's Botanical Landscapes provides a vivid exploration of the Golden State's native vegetation. Each chapter focuses on one of 14 ecoregions, illuminating their unique plant species and communities through a phenomenal array of photographs paired with in-depth, interpretive descriptions written by California's top plant ecologists. This book serves to inspire, with beautiful, vibrant depictions of the landscape, and to enhance understanding of current vegetation patterns, as documented and standardized by A Manual of California Vegetation (CNPS 2009).

This colorful and engaging book contains:
Over 300 pages, arranged by ecoregion into 14 vibrant chapters

Descriptions of the key vegetation alliances and rare plant species for each region 

A discussion of current threat and management concerns for each region

More than 600 stunning photographs!
A must-have book for anyone interested in the botanical diversity of California—botanists, ecologists, environmental scientists, natural historians, and plant lovers of all kinds.
ISBN 978-0-943460-55-0
---
We Also Recommend