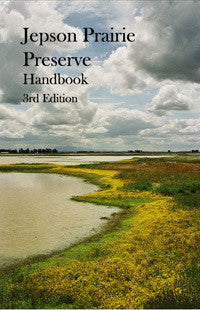 Jepson Prairie Preserve Handbook, 3rd Ed.
The 3rd Edition of the Jepson Prairie Preserve Handbook
Carol W. Witham and Kate Mawdsley, Editors
Jepson Prairie Preserve Docent Program
A delightful reference and field guide to a regionally treasured vernal pool preserve in Solano County. Text covers geographic setting, history and numerous in-depth species and habitat stories. This compact reference contains a photo field guide to the common plants, amphibians and reptiles, birds and mammals, plus an illustrated guide to the common vernal pool invertebrates. 80 pages, 8.5 x 5.5 inches, spiral bound, with 234 color photographs, 3 maps, 24 illustrations, and an index.
Solano Land Trust, 2012
ISBN 978-0-9882593-0-0
---
We Also Recommend