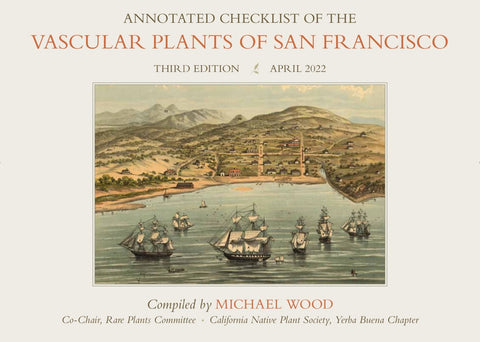 Annotated Checklist of the Vascular Plants of San Francisco
The Checklist presents data on all plant taxa in natural and naturalized areas within the City and County of San Francisco, past and present. Representing the first compilation of the County's flora since 1958, the Checklist covers the historical and extant occurrences of over 1,600 plant taxa. This includes 766 taxa indigenous to the region, 257 of which are extirpated, and 820 introduced taxa.  Assembled from 19th-century records and herbarium sheets, City and NGO records, published and unpublished lists, Calflora, iNaturalist, and contemporary (1980-present) authoritative observations, Mike Wood has compiled not just a list of species, but an accounting of when and where they occurred, from where they've been lost, and current status and location(s).  Taxonomic nomenclature has been completely revised, with synonymy and pending name changes included for all relevant taxa. Taxa are organized alphabetically by genus. An appendix table lists all family names along with all genera cited in the text providing a "crosswalk" between old and new names.  Another appendix lists all site names cited in the text, providing a cross reference between historic and contemporary place names. The fourteen tables give further structure to the data with topics such as Rare Species, Natural and Naturalized Areas with Highest Diversity (of indigenous, nonnative, and invasive taxa), Frequency of Indigenous Plant Taxa, and Most Frequently Occurring Taxa.  Five maps locate all the natural and naturalized areas in the City.
Soft cover, 8.5 in. x 11 in.
273 pages
Includes:
Introduction
14 Tables
Appendices:  References and Data Sources; San Francisco Place Names; Plant Families and Genera Included in the Checklist
---
We Also Recommend