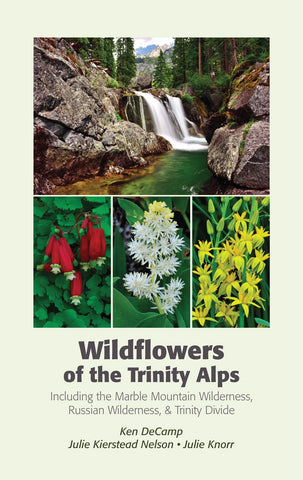 Wildflowers of the Trinity Alps
Wildflowers of the Trinity Alps features plants found within the premier wilderness areas of northwest California's Klamath Mountains. This collection is representative of the most common, beautiful, and unique species in one of the most biodiverse temperate mountain ranges in the world.
Wildflowers of the Trinity Alps
505 species, subspecies, and varieties of wildflowers
Over 700 full color images organized by flower color
Localized, detailed species descriptions
Destinations to find flowers throughout the year
The Klamath Mountains are a fascinating and botanically diverse area situated at the the crossroads of the Coast Range, Modoc Plateau, Sacramento Valley, Cascade Range, and Sierra Nevada the Klamath Mountains and hold representative species from each. Combine that with their attendant geology, topography, and climate, and the floristic diversity is second to none for a temperate region.
ISBN 978-1-941624-11-1