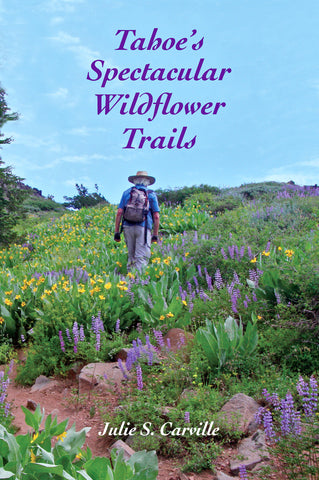 Tahoe's Spectacular Wildflower Trails
Tahoe's Spectacular Wildflower Trails
Julie S. Carville
Mountain Gypsy Press
Tahoe's 21 best scenic wildflower trails
Color guide for easy flower identification
Tree guide for quick reference
870 color photographs
Prepare to be inspired! Julie's knowledge, enthusiasm, and passion are contagious. She'll teach you how to identify Sierra wildflowers, where to find them, the important ecological role they play -- and you will have fun in the process! With Julie as your guide, countless hours of delightful meandering await you. 
-- David Edelson, Sierra Nevada Project Director, The Nature Conservancy
You'll Learn an amazing amount with Julie Carville's fine book and at the same time fall in love with the individual flowers and trees found along the trails. Abundant, lovely photographs make plant identification easy, and the lively text make this book a delightful trail companion. 
-- Phyllis M. Faber, Natural History Editor U. C. Press, Former Editor for CNPS Fremontia
Just naming a plant is the tip of the iceberg. Tahoe's Spectacular Wildflower Trails will guide you along Tahoe's trails and deeply into the wonders and stories of Sierra plants. Clear trail descriptions and rich natural history will open a world of discovery. An essential trail companion for naturalists and outdoor enthusiasts. 
-- John Muir Laws, author and illustrator of The Laws Field Guide to the Sierra Nevada
Autographed by Julie Carville!
---
We Also Recommend